Xiaomi finally seems to come in Nepali Market. Its been a while the Chinese smartphone makers grabbing a proper share in Indian marketing providing tough market competition to Indian Smartphone Makers. Craze of Xiaomi of Nepal has surged in recent days as the product came to Nepali market through India, becoming an instant hit.
Xiaomi in Nepal – Dealers Wanted: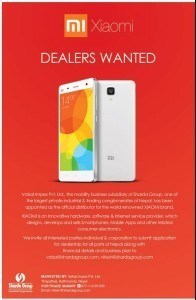 The Chinese Smartphone company Xiaomi  has finally steeped in the market of Nepal and Xiaomi in Nepal will begin the service soon. The Vatsal Impex Pvt Ltd has already been appointed as the official distributor in Nepal. The Vatsal Impex Pvt ltd is seeking for the dealership in Nepal. So we can finally get the original Mi smartphones in Nepal officially Very soon and the long await for the xiaomi mobile fans is finally over.
Pic credit: The himalayan times.